About Us
Our Story
CONQUERing's mission is to help you feel empowered. We've designed our interchangeable jewelry to help you feel calm, focused and inspired so you can live with intention to CONQUER your day.
Our founder and CEO Tammy Nelson has a personal goal to help 3 million people feel empowered in her lifetime and creating CONQUERing is one of the ways she's fulfilling that mission. When she started the company, she wanted to create something gorgeous but with a purpose – something that would help you live with intention to conquer your day. (And you guessed it – that's where the name came from!)

CONQUERing is an especially meaningful project for Tammy because she co-created it with her son, Jake, who was heavily involved in the ring's design and continues to work in the business full-time. Together they've created a product designed to inspire, motivate, comfort, and support.

Each morning, select the encouragement you most need that day by popping an inspiring word, symbol or crystal into your ring. Throughout your day, stay focused and calm by clicking and spinning our discreet fidget jewelry. And each time you need some extra inspiration, recall the metaphysical properties of your crystal or reveal your ring's hidden message to feel empowered to conquer your day!
"Our rings won't change the world, but those who wear them will. If we can help you feel focused and empowered to live with purpose, then we've accomplished our mission."
Tammy Nelson, CONQUERing Founder & CEO
Our Commitment to Inclusivity
When we talk about enabling empowerment, we mean empowerment for EVERYONE. That's why we make inclusivity a priority, from highlighting marginalized groups to creating Braille versions of our rings. We even offer the largest ring size range of any fashion jewelry brand (4-14). We're committed to continuing these efforts as we grow.
Supporting Those with Different Abilities
Example: Braille jewelry for those who are blind or visually impaired
Shop Braille Jewelry
Bringing Awareness to Sensitive Topics
Example: Keep go;ing necklace with suicide prevention symbol
Strength & Encouragement
Highlighting Marginalized Groups
Example: The PRIDE ring in support of LGBTQIA+
Shop Identity Jewelry
Offering Inclusive Sizing
Example: Largest ring size range of any fashion jewelry brand (sizes 4-14)
View All Products
Helping Those with Anxiety or Who Have Trouble Focusing
Example: FOCUS ring popular with those who have ADHD
Shop Rings
America's #1 Fastest Growing Jewelry Brand
We're proud to be the #1 fastest growing jewelry brand on the Inc. 5000 list and the 25th fastest growing retailer overall.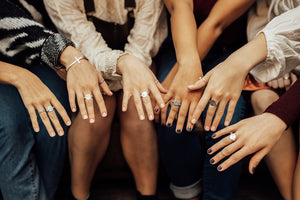 CONQUERcares
Since our brand mission is to enable empowerment, we are proud to donate 5% of our profits to organizations that share our passion for empowering others. So when you make a CONQUERing purchase, you can feel extra-fulfilled knowing that you'll be lifting others while empowering yourself.
See How We Give Back